Biography


Inspired by Deep Purple, Uwe breaks into the world of rock music with his bands VANGUARD and ODESSA, is rewarded with his first record contract, and wins the accolade of Best Rock Band in Berlin.
As a child of the age of the Apollo space programme, Uwe's eyes were already fixed on the stars and was enthusiastic about aerospace technology. But it was sounds, not rockets, that Uwe was destined to send careering into space – to infinity and beyond! 
As a 12 year old he had one hobby: listening to rock music. Hours of every day were spent in record shops sampling the latest albums from Pink Floyd, Deep Purple or Uriah Heep. No other opportunity existed, since German radio had not yet caught up with the genre of rock.
Then came 16th January 1973, and a concert that would change Uwe's life. The British hard rock band Deep Purple played in Berlin's Sportpalast. The verve and magic of Deep Purple's music, particularly Jon Lord on the Hammond organ, simply blew him away, and he decided to become a rock star. Soon after, he founded his first band, VANGUARD. Every day he would practise after school, on a humble organ in the cellar to which he had attached a fuzz box?/distortion pedal? to get the right sound. Until the neighbours turned off the electricity.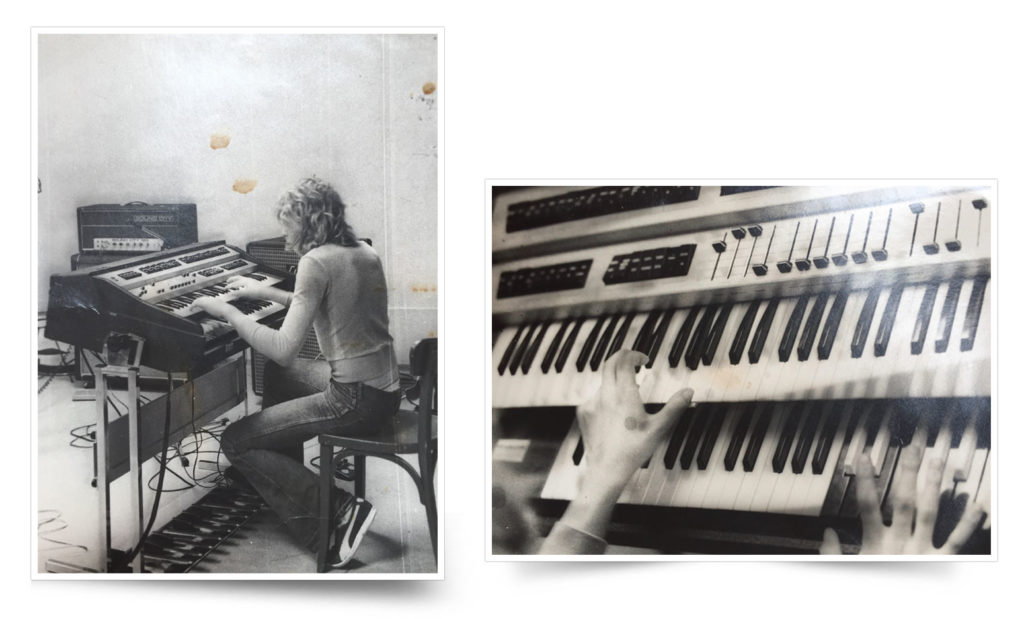 Uwe with VANGUARD, Berlin 1976
"There was only one option for me:

 
I wanted to be a rock star."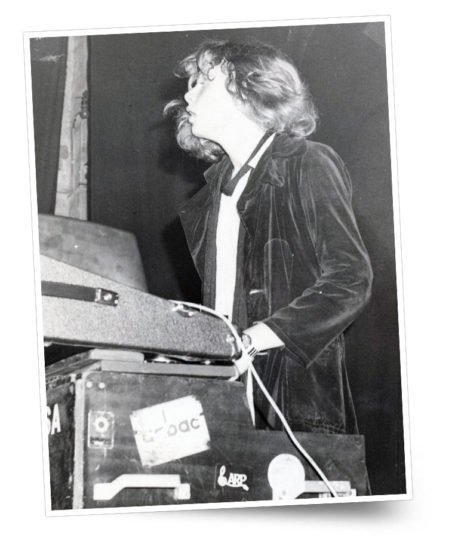 Uwe with his first "Hammond" organ on stage with ODESSA (Quartier Latin Berlin,1978)
The organ sounds of VANGUARD erupting from the cellar were a foretaste of the turbulent years ahead. There was one band in Berlin that sounded to Uwe like the Brit and US rock bands he had heard in the record shops: ODESSA. Ever since he'd witnessed one of their concerts in the Fortress at Spandau, he had dreamed of one day playing in that band.  As luck would have it, a chance came his way. VANGUARD's drummer had to pull out of some demo recordings, and who should step into his shoes but the legendary "Otto" (real name Hans Jürgen Schneider), the drummer of ODESSA. "Otto" spotted Uwe's talent in the studio and asked him to join ODESSA when their organist moved to another band. But there was one catch: to match the professional ODESSA sound, Uwe would have to provide his own Hammond organ. 
"At the age of 17 Uwe was already composing all the songs
for ODESSA's first album."
So Uwe sold all his instruments and took a summer job in a department store, determined to scrape the cash together for a battered, second hand Hammond. Another young musician was working in the store, bass guitarist Jürgen Dehmel. The two became friends and, a year later, Jürgen too was invited to join ODESSA. At 17, Uwe was the youngest member of the band, but he would soon be writing all their songs. And that precocious talent, honed by hard work, paid dividends. In 1978 Uwe and ODESSA won the Berlin Senate competition as "The Best Rock Band in Berlin", earning their first recording contract.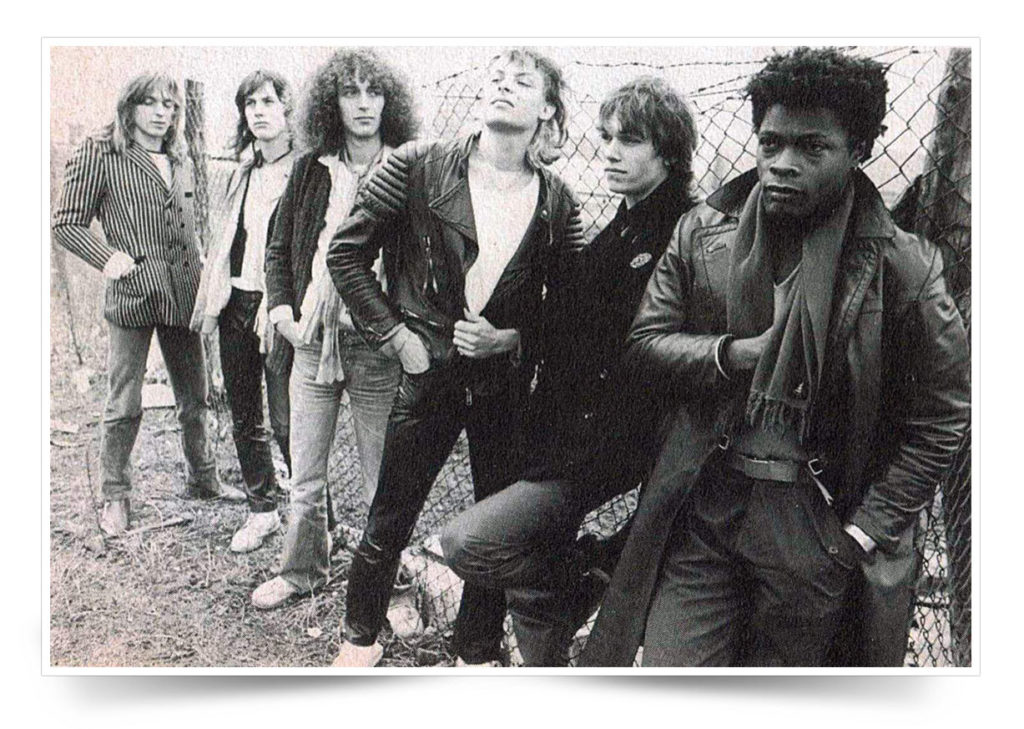 ODESSA, West-Berlin 1980, from left to right: H.-J. Schneider ("Otto"), Bernd Däumichen, Andreas "Lömel" Römer, Uwe Fahrenkrog-Petersen, Jürgen Dehmel, Lee Gates
A first album soon followed, and a second was released two years later. With Jürgen Dehmel on bass and Katia Kinska on vocals, Uwe recorded the German language album KATIA.

Global career breakthrough with the legendary pop rock band NENA
1981. Berlin was in thrall to the New German Wave. New bands with a distinctive new sound and German lyrics were springing up everywhere, and finally making inroads into the charts. Uwe's work with ODESSA had attracted the attention of leading music producers Manne Praeker and Reinhold Heil, who at that time were busy promoting the Nina Hagen Band and Spliff. While still waiting for his big break, Uwe heard about a young band from Hagen, The Stripes. They needed a keyboard player for a ten-day tour, and Uwe needed money to buy a decent case for his synthesizer.
Thus came about the first meeting of singer Gabriele Kerner (nickname "Nena"), drummer Rolf Brendel and Uwe Fahrenkrog-Petersen in the winter of 1981, in an unheated flat above a shop in Berlin Schöneberg, where Gabriele and Rolf had spent the night. Uwe's first thought was "a couple of provincial hicks!" In their home-knitted pullovers – a stark contrast to Uwe's extravagant attire of white leather jeans, turquoise jacket and red suede boots – the pair didn't exactly look like budding rock stars.  But the tour delivered a surprise for Uwe: though The Stripes' repertoire (in English) was only average, their female vocalist had an undeniable charisma. 
The plan had been for the two Stripes members to team up with producers Reinhold Heil and Manne Praeker and their manager Jim Rakete, with the idea of launching a new band, based in Berlin and singing in German. This was the chance Uwe had been waiting for, and over Christmas he composed the new band's first two songs: Nur geträumt (Just a Dream) and Ganz oben (Right on Top), to lyrics by "Nena" and Rolf. The combination – and the songs – won over not just the producers, but record company CBS. The first single, with Nur geträumt as the A-side, was to be recorded in spring 1982 in the Spliff Studios in Berlin-Moabit.
But the band needed two more instrumentalists. "Nena" and Rolf recruited a friend from Hagen, the Hamburg-born guitarist Carlo Karges, an experienced musician and gifted songwriter who had played with bands like Novalis, Extrabreit and Ulla Meinecke. He had just finished a tour in time to join the band in January to record Nur geträumt in the studio. And as bass guitarist Uwe recruited his friend and colleague from ODESSA, Jürgen Dehmel, who brought his multiple talents to the mix.
The band NENA, West-Berlin 1982, from left to right: Jürgen Dehmel, Rolf Brendel, Gabriele "Nena" Kerner, Uwe Fahrenkrog-Petersen, Carlo Karges
"He rides a Harley and is a great cook" (BRAVO magazine article about Uwe)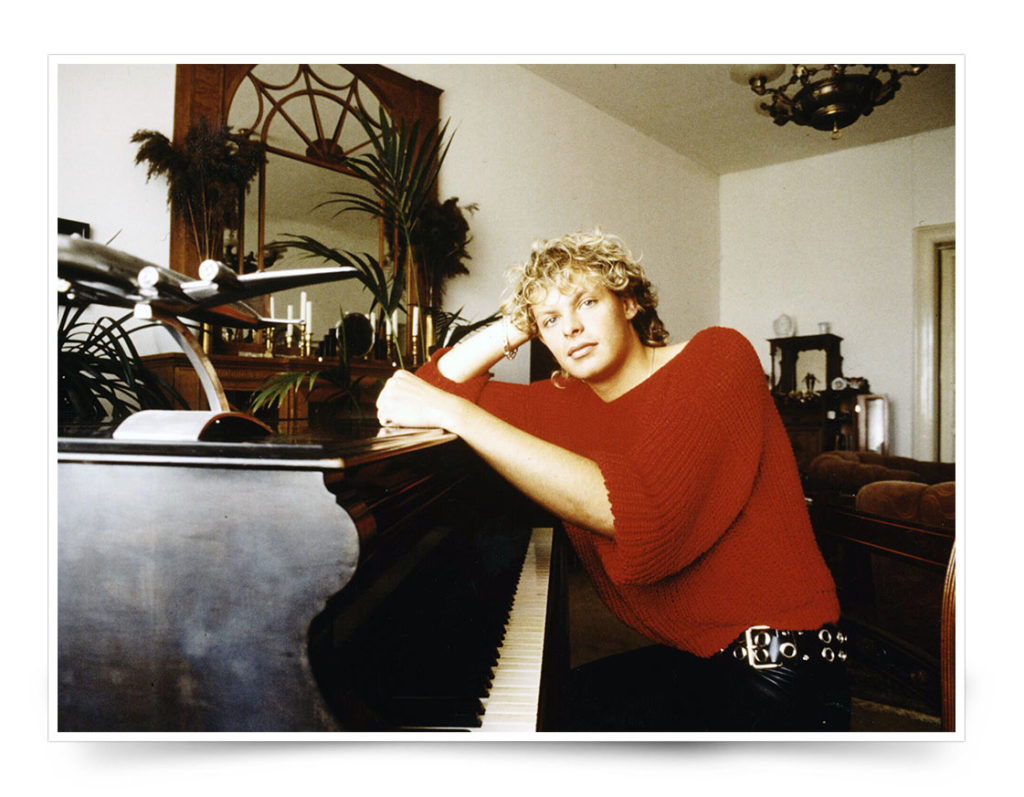 With the line-up now complete, "Nena" and Rolf moved to Berlin – in fact, moved in with Uwe – so they could work day and night on new songs. The choice of a name for the band followed an American model: BLONDIE, the nickname of female vocalist Debbie Harry. So the band became NENA, and NENA was the title of their first album. And so NENA became the stuff of legend. But from then to the present day, NENA the band has been confused in the public mind with vocalist "Nena" Kerner and her later solo career. 
Uwe composes the music for all the band NENA's greatest hits:
including "99 Luftballons", "Nur geträumt", "Irgendwie, Irgendwo, Irgendwann", "Leuchtturm", "Fragezeichen", "Haus der 3 Sonnen" ,"Jetzt bist du weg". And "99 Luftballons" tops the charts in 52 countries.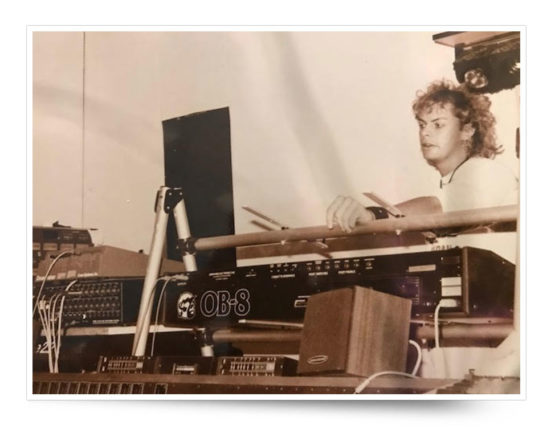 Uwe with his Oberheim OB-8 synthesizer in a recording session of the band NENA at "Spliff-Studio", West-Berlin 1983
What made the band's sound so brilliantly distinctive, what made it continue to grow and develop, was the group of kindred spirits – exceptional songwriters and equally exceptional musicians –creating a repertoire together. Uwe and guitarist Carlo Karges wrote the band's two biggest hits – 99 Luftballons and Irgendwie, Irgendwo, Irgendwann – and other songs. Besides Nur geträumt, "Nena" and Uwe together wrote the hits Leuchtturm (Lighthouse) and Fragezeichen (Question Mark). And multi-instrumentalist Jürgen Dehmel and drummer Rolf Brendel also contributed important songs which broadened the band's artistic range. 
99 Luftballons has since been honoured by both the BBC and CNN as one of the most relevant songs of the last 50 years. Today it still features regularly in films and commercials, especially in the US.
"Uwe is an enigma, split between realist and dreamer.
His songs are not just two-dimensional R&R songs,
but sound pictures that match his imagination."
(Jim Rakete)
1984, and Uwe writes his first composition for a major public event: the song Feuertraum (Firedream) is the intro to André Heller's spectacular Feuertheater (Firetheatre) in front of the Berlin Reichstag.
Meanwhile at breathtaking speed, NENA the band conquers the pop charts of the world thanks to the thrilling combination, in their live appearances, of the exuberant energy of its members and the onstage charisma that Uwe had detected early in "Nena" Kerner. 
"With his synth strapped over his shoulder, Uwe grabs the limelight on stage
with his rampaging solos."
(Bravo)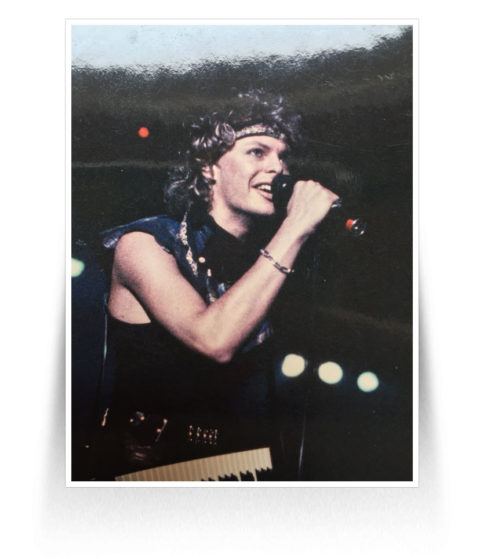 After 16 million discs sold, a flood of Golden Disc awards, four complete albums and several exhausting world tours, the band would split in 1987.
1983 – 1985. Uwe's success internationally as a songwriter brings him to the attention of the management of "Prince" – Cavallo, Raffalo & Fargnioli, who promptly sign him up. Soon after, in Los Angeles, he composes and produces songs for Prince's co-star in the film "Purple Rain" – American singer APOLLONIA, for her role in the TV series FALCON CREST.
1986 – 1988. Inspired by Prince, Uwe writes the songs for a Minneapolis funk style album for TONY BAEZ, producing it in L.A. and at the renowned Wisseloord Studios in Hilversum (Netherlands).
The band NENA receives multiple gold and platinum awards from legendary CBS records president Walter Yetnikoff (3rd from the right) 1984 in West-Berlin

Uwe's first solo album is released and his dream of an international glam rock band is fulfilled with VOODOO X in New York.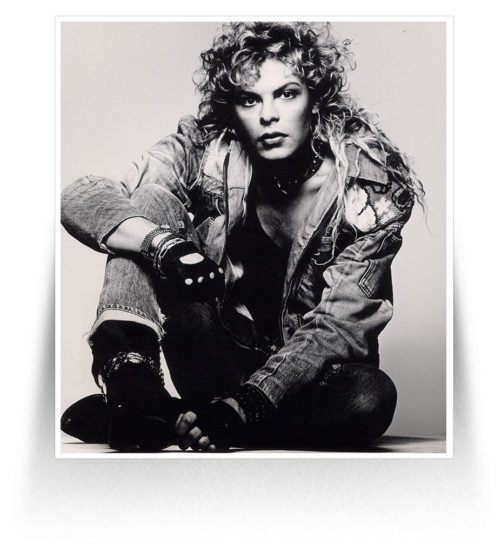 After composing and producing his first electronic solo album in 1987 in Berlin for the ZDF TV series Terra X ATLANTIS (with his friend Jürgen Dehmel as co-producer), Uwe moves to New York in 1988. 
With the break-up of the band NENA, Uwe can now realise a long held dream and create an internationally successful hard rock band.
Armed with steely determination and a suitcase full of his rock songs, he flies in 1988 to the New Music Seminar in New York, where he meets Nile Rodgers, the producer of albums for CHIC, MADONNA and DURAN DURAN. It is soon agreed that Nile will produce for Uwe, but to succeed they need a really charismatic singer. 
"Nile Rodgers was determined to produce me and Voodoo X."
Fate, once again, introduces Uwe to the right person. At a party in honour of Roy Orbison in the Hard Rock Café in New York, Uwe spots an impressive figure heading straight towards him, wearing a jet black coat and sporting a blonde mohawk. In style, Uwe thinks, the pair of them could be brothers. Jean Beauvoir, the phenomenal black rock singer and guitarist, is already well known for his work with the Plasmatics, the Disciples of Soul, and as a producer for Ramones. The two get talking, and decide very quickly that they should form a band together. Just as quickly they hit upon a band name, for which the inspiration is the High Priest of White Voodoo, Jean's uncle Max Beauvoir. VOODOO X is born!
With Jean Beauvoir, and co-producing with Max Norman, Uwe releases the band's debut album. The Awakening is a commercial and critical success, and the British rock magazine Metal Hammer dubs it the "Rock Album of the Decade". 
When Uwe and the band then move to Los Angeles, there follow songwriting sessions with Paul Stanley of KISS, live appearances with BON JOVI and a European tour by VOODOO X with Canadian rock band SAGA.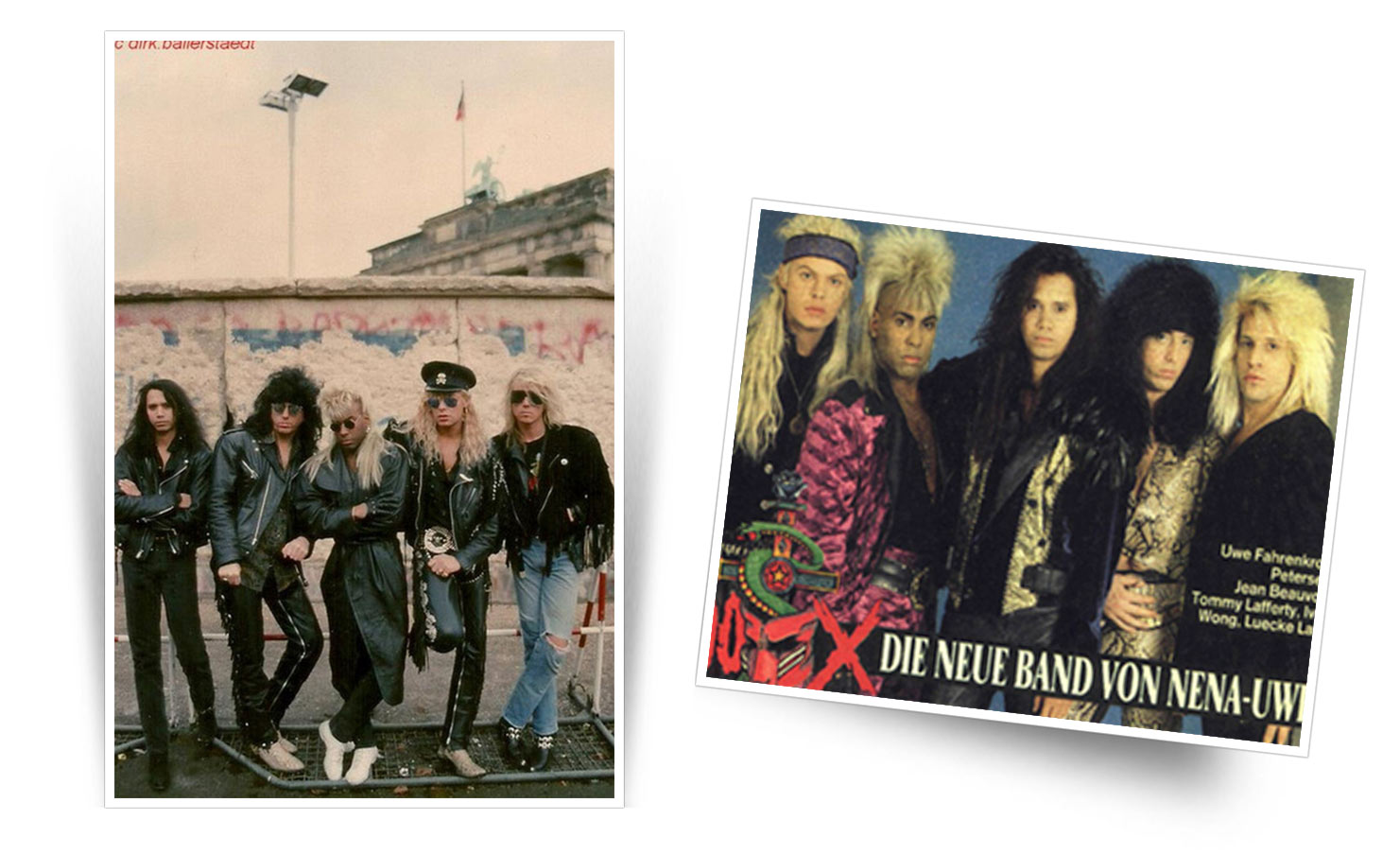 VOODOO X 1990 in Berlin during their European tour with SAGA

Uwe focuses on his work as a music producer with TV and pop commissions (including for *NSYNC), and creates his first musical. For the turn of the millennium he composes an outlandish electronic symphony for performance with the legendary Japanese Taiko drummers KODO to mark the opening of the Sony Center in Berlin.
Before long his birthplace lures Uwe back to new Berlin adventures. Of the huge royalties earned by NENA as a band, about 90% has been filtered into the pockets of business managers, record companies, lawyers, publishers, international collecting societies, property managers, accountants and other dubious characters. A story all too familiar to young, successful musicians.
But Uwe's versatile talent – and experience in the international music business – enable him to branch out into TV and commercials, where his rapid success lays the foundation for further exciting forays into large scale creative projects. 
"Somehow everything meshed together, one project led to another and took me in new directions."
Uwe's biography for those years reads like a paradigm for how to successfully redefine oneself as an artist. He writes the title music for German TV series and game shows and becomes regular, long-term musical director and composer for German TV show THE GOLDEN CAMERA and for the German TV Awards. His compositions continue to be an integral part of those programmes. 
"Johnny (John Williams) would have been jealous."
(Steven Spielberg about Uwe)
The n-tv news channel is launched exclusively with Uwe's music, he composes and produces (with Andreas Bärtels) the title song Love Goes On for the film "The Mask of Zorro" with Catherine Zeta-Jones and Antonio Banderas, and he is commissioned to compose the anthem and music for Berlin's bid for the 2000 Olympic Games – though the prize is won by Sydney.
"The man is a hit in the USA."
(BILD)
In 1996 Uwe welcomes two visitors to the hallowed Hansa Studio in Berlin, a mother and her teenage son, the then still unknown Justin Timberlake. The boy's record label has commissioned Uwe to come up with a hit for the debut album of his boyband *NSYNC. The album becomes a worldwide success and earns Uwe his next Golden Disc as producer.
1996-1998. After that excursion into American pop culture, it is time for Uwe to embark on a new journey – to Tokyo. The triumphant NENA tours of Japan have allowed Uwe to get to know not just the country and its people, but the vibrant Japanese pop scene. The symbiotic connection in Japan between music, fashion and TV, with pop music as the driver, inspires Uwe to launch a bilingual project in English and Japanese, something Japan – and the world, for that matter – has never heard before: a collaboration between an American rapper and a Japanese female singer. Thus is born the IDORU WUNDERKIND music project in Tokyo, with Jean Beauvoir and the singer "Nokko".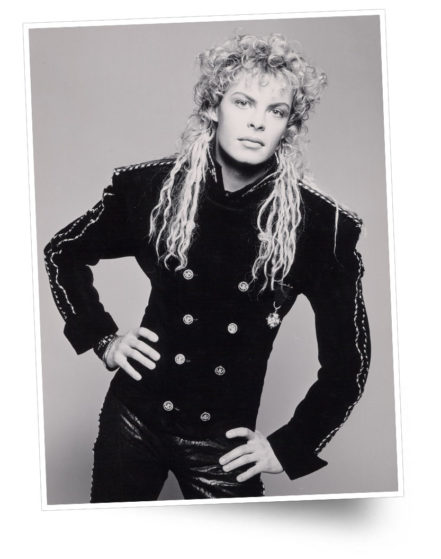 1994-2000: "NOSTRADAMUS 1999"!
On the streets of New York, during his time with the band VOODOO X, Uwe had been regularly mistaken for the Vampire Lestat, the protagonist of Anne Rice's famous series of vampire novels. Not surprisingly, since his appearance at the time – long blond hair, Bohemian attire, long red coat with a wolf's fur collar and jewelled rings – was a perfect fit for the description in the books. Uwe begins to immerse himself in vampire literature, and out of that comes the idea for a rock musical about a vampire rock star. But another great composer and songwriter has had the same idea, and it is Elton John who secures the rights. However, Uwe takes this setback as an inspiration, and the prospect of the approaching millennium steers him towards the perfect plot for a mystical rock musical: the story of Nostradamus.
"Redefining musicals is an ambitious dream of Uwe's."
Production contracts are already signed, a gripping story (by bookwriter Andreas Bärtels) and gorgeous music to match are already written, when construction work begins on a new theatre in Munich that will house the show. The director and creative team have put their heart and soul into the work – and then the property crisis brings an abrupt end to the whole project. The theatre is sold before building work is complete. But the book and the songs are just waiting to be revived, and Uwe has plans for them in the near future.
1999-2000 Berlin / Tokyo/ Sado Island. While he is in Japan, news reaches Uwe of the planned opening of the Sony Center in Berlin. The arrival of Sony, the world's biggest entertainment corporation, in Germany's reunited capital is both a statement that his home town has regained international status as a media metropolis, and an opportunity for Berliners and Japanese to make their mark together. Uwe's ground-breaking idea is that a mini-symphony of electronic music, representing his city, should combine with a Japanese national treasure, the Taiko drummers of KODO, in a great musical celebration of the event. Thanks to his familiarity with the Japanese language, history and – not least – the rituals of its business culture, he succeeds in winning Sony Japan's approval for the project SEE YOU TODAY.

Uwe goes to Hollywood. The dream factory starts to take notice.
"The wonderful off-beat score from Uwe Fahrenkrog-Petersen"
(The Hollywood Reporter)
Uwe now begins a successful career as a composer of film scores in Hollywood.
The mini-symphony SEE YOU TODAY makes a big impression on Uwe's publisher and convinces him that it is time for his client to branch out into film music. Meetings are arranged for Uwe with two Hollywood movie producers of German extraction. For months after the meetings, Uwe hears nothing. Then just before Christmas, a commission arrives for a major movie! It is already in post-production, so time is of the essence. A score had been commissioned from a big name American composer, but it has failed to meet with approval, even after rewrites. The budget just about covers the orchestra, but within ten days Uwe delivers the perfect score for Oscar-winning director Stephan Ruzowitzki's feature ALL THE QUEEN'S MEN.
"ALL THE QUEEN'S MEN" / Filmmusik
Regie "Oscar" Gewinner Stephan Ruzowitzki
Mit Eddie Izzard, Mat Leblanc
The delighted film producer wastes no time in commissioning another film score from Uwe, for IGBY GOES DOWN: 
IGBY GOES DOWN / film music
nominated for two Golden Globes
with Susan Sarandon, Bill Pullman,
Claire Danes, Amanda Peet, Ryan Philippe
Uwe goes on to write film scores and soundtracks for:
THE INFORMERS (by Bret Easton Ellis) / soundtrack
with Kim Basinger, Mickey Rourke, Billy Bob Thornton, Amber Heard
UNTHINKABLE / soundtrack
with Samuel L. Jackson, Carrie-Anne Moss, Michael Sheen
GLOBI AND THE STOLEN SHADOWS (Animation Feature Film) / film music
In collaboration with Laurent Garnier
For all his movie scores Uwe collaborates – as he did on THE GOLDEN KAMERA – with his good friend from Milan, the orchestral arranger and composer Alberto Mompellio.

Thanks to the astonishing success of the re-release, produced by Uwe, of the band NENA's greatest hits of the 80s, vocalist "Nena" Kerner achieves her breakthrough as a solo artist.
In 2002, the NENA band members are reunited at the funeral of Carlo Karges. The band guitarist's greatest wish is at last fulfilled, but too late for Carlo. After the ceremony "Nena" and Uwe discuss the idea of re-releasing the band's hits in a new context, to boost her career as a solo artist, and at the same time to bring the extraordinary phenomenon that was NENA the band back into the public consciousness. Uwe's ambitious production (with co-producer/mixer Jeo Mezei) ensures that the success of the album Nena feat. Nena even surpasses that of the band's legendary debut album of 1983. 1.3 million album sales in Germany alone – and the number one hit duet with Kim Wilde of Anywhere, Anyplace, Anytime – vindicate Uwe's ambition and lay the foundations for vocalist "Nena's" continuing solo career.
"I wanted to show Westernhagen and Grönemeyer
who is really No. 1 in Germany…"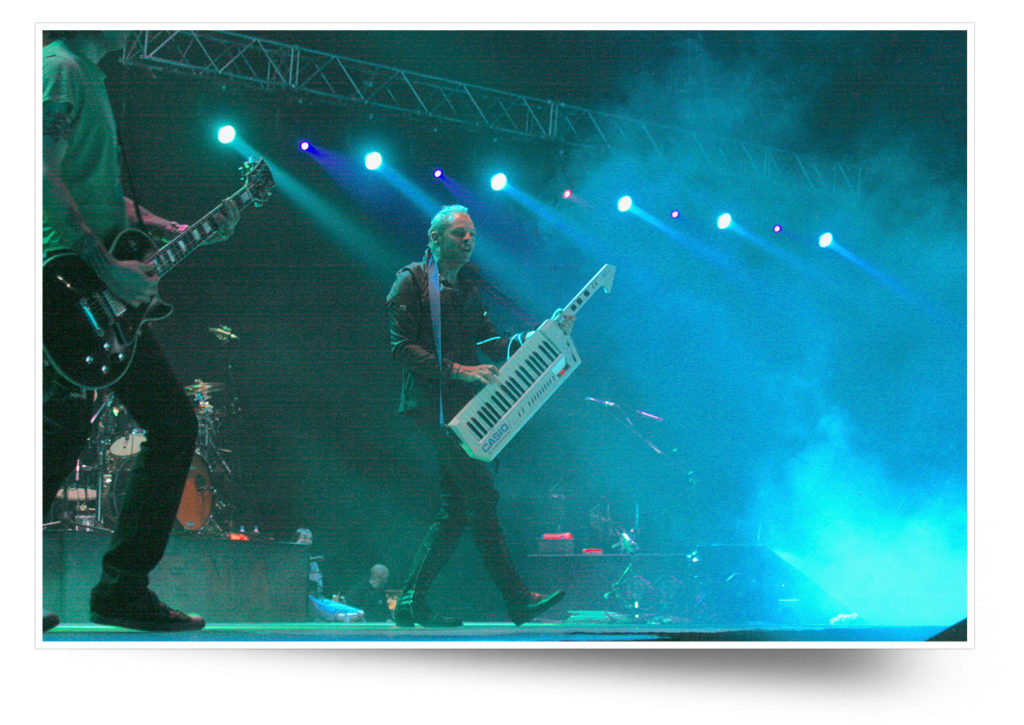 Uwe live on stage with Richard Fortus (Guns N' Roses) and singer "Nena".
"Nena's" next album Willst du mit mir gehen (Will you go with me) is also produced by Uwe (with co-producer/mixer Jeo Mezei), and "Nena" and Uwe together compose, amongst other songs, the chart-topping hits Liebe ist (Love is) – famous as the title song of the telenovela Verliebt in Berlin – and the single Willst du mit mir gehn. Uwe as producer wins several international Gold and Platinum awards. 
"Who else should have his finger in this pie but Uwe Fahrenkrog-Petersen…the producer with a nose for number one hits."
(STERN magazine)
"Nena's" album Cover Me is also produced by Uwe, who relishes the challenge of recording cover versions in a fresh "Nena" style of some of the most iconic numbers in the history of song. Finally, in 2010 "Nena's" solo album MADE IN GERMANY, with Uwe as co-producer and songwriter, achieves Gold status.

As juror and presenter on the casting show POPSTARS, Uwe becomes a TV favourite and, as a hit producer, begins to promote young unknown talents.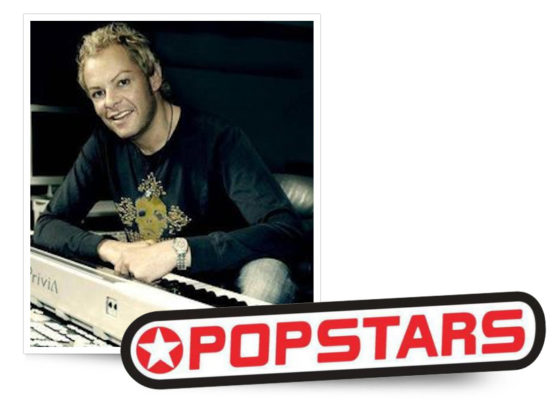 The challenge of trying something new – and the appeal of a brand new TV format – finally lures Uwe to the small screen. As judge and presenter of the Pro 7 casting show POPSTARS he becomes a nationwide favourite. He composes and produces the show's title song Leb deinen Traum (Live your dream), plus the singles and albums of the winning bands PRELUDERS (co-producer: Gena Wernik) and NU PAGADI (co-producer: Derek von Krogh). This period of his career is crowned with more chart-topping hits, renewed album Gold status, and a BAMBI nomination (the German equivalent of EMMY or BAFTA) as TV presenter. 
Uwe's love of new musical challenges leads him to produce international hits for artists from all over the world.
It is not only former band colleague "Nena" who benefits at this time from Uwe's success as composer and producer. Rapper SEAN PAUL launches his first big hit in Jamaica, his debut on the international scene, and the foundation of his worldwide success, with Baby Girl Don't Cry No More, a reworking of 99 Luftballons. And Uwe's greatest ever hit is also released in the US in a reworking by the FUGEES, JOHN FORTÉ and WYCLEF JEAN as the single Flash The Message.
Further triumphs follow when the influence of Arab music in R'n'B and Pop inspires Uwe to compose and produce the album ELBI, bringing success to the German-Algerian girl pop duo MILK & HONEY. Uwe's compositions continue to enrich German lyrics. And one gang of newcomers, a teenage girl punk band, so impresses him with their live performances that he produces their album and writes the music for their single releases Wenn ich ein Junge wär (If I was a boy), Mein Herz ist Gift für dich (My heart is poison for you) and Sternradio (Star radio). Working with Inga Humpe of the duo 2RAUMWOHNUNG and female vocalist CHANTI, Uwe thus lays the cornerstone for the huge success of the band FRÄULEIN WUNDER (Miss Miracle). 
The collaboration with Inga Humpe also creates another hit song for 2RAUMWOHNUNG: Nimm mich mit (Take me with you), the single on the Gold Disc album Kommt zusammen (Come Together). A year later Uwe meets up again in London with Kim Wilde, a big musical inspiration during the early years of the NENA band. Kim had been the key to realising Uwe's idea of releasing a part-English, part-German duet version of Irgendwie, Irgendwo, Irgendwann / Anyplace, Anywhere, Anytime. They now collaborate again on Kim Wilde's comeback album, for which Uwe contributes three new songs – including the single Perfect Girl – working in tandem with the songwriter of all Kim Wilde hits, her brother Ricky Wilde. 
2009 Moscow. The Russian Miss Universe – and well-known TV presenter – OKSANA FEDOROVA is looking for a hit composer for her solo music career. Uwe, who has explored the cultures of different continents, now immerses himself in the world of Russian pop music and finds another winning formula. The song Pravda Lubov, a duet by OKSANA FEDOROVA and NICOLAI BASKOV, tops the charts and wins Best Song and Best Video at the Russian Music Awards.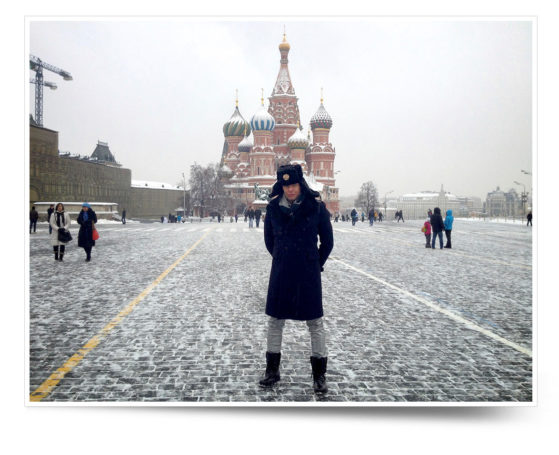 K-pop and J-pop, musical development, and the start of production on the solo album NEW ATLANTIS PROJECT
Though Uwe was never a fan of 1980s German cult pop duo MODERN TALKING (You're My Heart, You're My Soul), he always admired heartthrob Thomas Anders as a singer and fellow musician. So why not join forces – as pop duo ANDERS/FAHRENKROG? Uwe works with top teams from Los Angeles, London, Copenhagen and Trondheim to produce the album TWO. 
"The killers of Modern Talking show no mercy."
(Welt)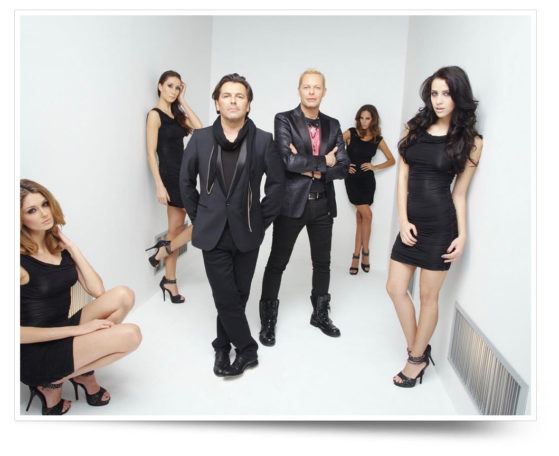 But what happens when Uwe's rock soul shares a stage with everybody's darling Thomas Anders? The darling turns out to have a dark side, as Uwe writes a song that startles the heartthrob's fans by making him a heartless gigolo:
"Got no heart, got no soul…
I leave you crying in the rain
I'm no Romeo…I'm just a gigolo"
2011 – 2014. It is that kind of daring that now attracts the attention of Ukrainian singer KAMALIYA. Classical opera-trained, but with some crossover pop albums with internationally renowned producers already under her belt, KAMALIYA now begins a fruitful collaboration with Uwe. His idea is to combine dance pop with glorious operatic melodies, and that formula elevates her album CLUB OPERA high into the hit parades of several European countries. Repeating the successful collaboration on CLUB OPERA for a second album, the classical/pop crossover CLUB CINEMA, Uwe as composer and producer works again with Norwegian songwriter/producer team DSIGN.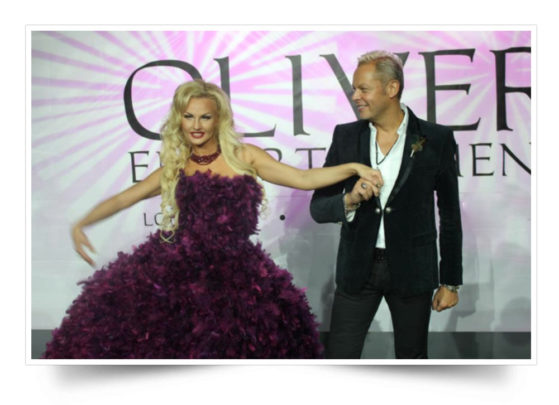 2013-2016. Between work on those two albums comes a trip to Korea. In studio sessions in Seoul and Los Angeles, Uwe teams up with DSIGN again and composes Billboard World Charts number one hits for K-pop and J-pop stars like JONGHYUN (SHINEE), DAICHI MIURA and the Korean supergroup GIRLS' GENERATION.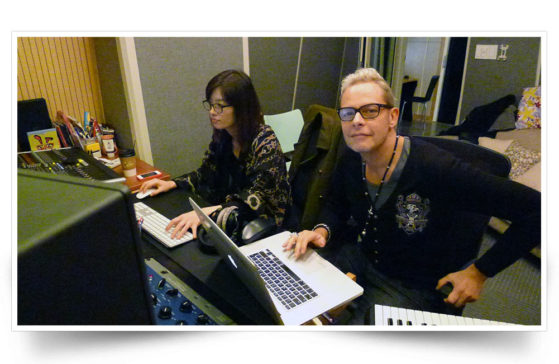 2015. Uwe as songwriter collaborates again with DSIGN, and with Kanye West's producer Che Pope, resulting in the debut single Inconsiderate by the British-Jamaican artist KRISHANE.
2013 to the present day. In L.A. Uwe had begun developing various rock and pop musicals with potential international appeal. The first of these, DESERT FLOWER, based on the bestselling book of the same name, will be premiered in 2020.
The rock spectacle WALHALLA ULTD. Will be available as a radio podcast in 2019, as a taster for a full production.
"For me the next step is to create music for
spectacular live shows and pop musicals."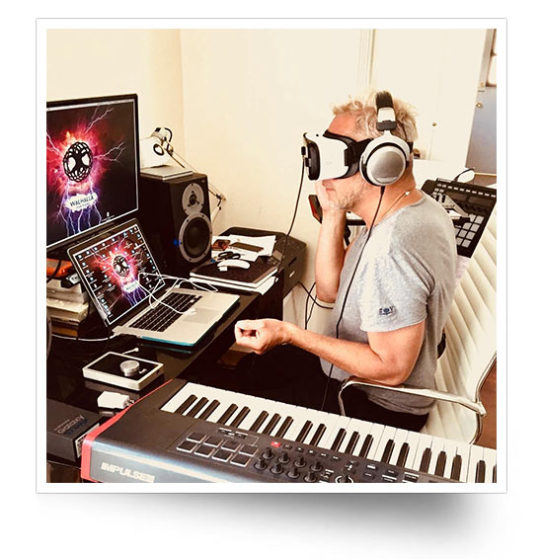 Since 2015 Uwe has also been working on the composition, production and live staging of his electronic synthesizer solo album NEW ATLANTIS PROJECT, which will showcase once again his skills as musician, not just producer. He started work on it in L.A. with his wife, the artist Christin Dechant. It combines music and the visual arts in a synaesthetic composition in which the visuals and the music mirror each other.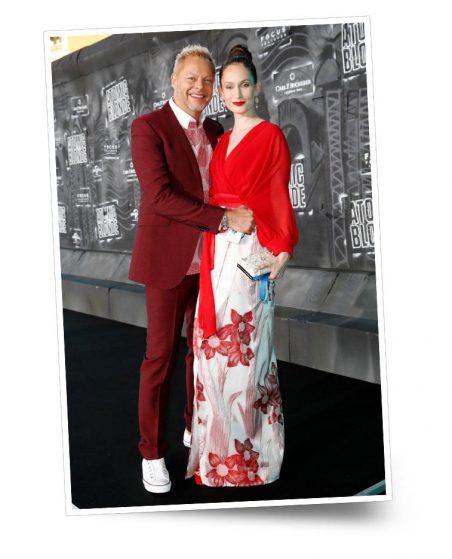 Uwe Fahrenkrog-Petersen with his fiancée Christin Dechant